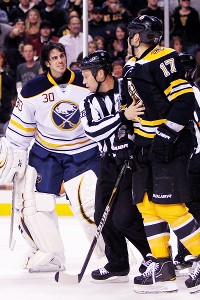 The Bruins have done it again.
Like Zdeno Chara's hit on Montreal's Max Pacioretty last season, the Bruins are now once again being looked at as big bad bullies thanks to Milan Lucic railroading Buffalo goaltender Ryan Miller 11 days ago at TD Garden (a game Boston won 6-2).
The hit sent the former Team USA Goalie sprawling to the ice. Several Buffalo players then jumped Lucic and made him pay for leveling their star goalie. Oh wait, that never happened. They just pushed him around a bit while their head coach Lindy Ruff cryed from his perch behind the bench.
After predictable outrage from North of the border via Canadian newspapers as well as a profanity laced tirade from Miller himself, the B's were once again public enemy number one. No one seemed to mention Miller swinging his stick at Lucic's shins though.
Millergate is clearly the top storyline going into tonight's game, as you have to think that the Sabres will stick up for Miller, especially at their home arena. Look for a guy like Paul Gaustad to step up to Lucic early, especially if Lucic plays his physical game. Bruins Vice President Cam Neely said on
Felger and Mazz
yesterday that they prefer when other teams adjust their play to the Bruins style, not the other way around.
I don't expect tonight to be a bloodbath, but I do expect the Sabres to at least make up for their lack of balls after the initial hit.
With regards to the actual hockey game, first place in the Northeast Division is on the line. The Bruins have won nine in a row after starting the season 3-7-0-0. The Sabres are 6-4 in their last ten games and are 12-8-0-0 overall. Both teams typically play a low scoring, defensive minded contest, leaning on their respective all-world netminders to keep games close. Tim Thomas predictably will start for the Bruins, he's coming off two consecutive shutouts of the Islanders and Canadiens.
That's not to say that both squads can't light the lamp whenever they want. Thomas Vanek leads the team in goals with 11 and Drew Stafford has shown he can be a Bruins killer. Miller has been out for the last four games and the Sabres are 2-2 in his absence with Jhonas Enroth elevated to the starting role. Buffalo defenseman Tyler Myers is also out with a broken wrist and is expected to miss 4-6 weeks.
Follow @RyanBurns88
Tweet