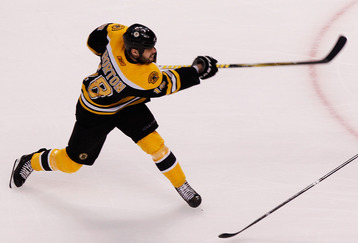 It didn't begin well, but the Bruins were able to step their game up in the 2nd and 3rd periods, defeating the Lightning. 3-1. They are now just one win away from advancing to their first Stanley Cup Final since 1990.
The B's picked up where they left off in Game 4, allowing a Simon Gagne goal just 65 seconds into the game. Gagne took a pass from Steven Stamkos and beat Tim Thomas stick side for his 5th goal of the playoffs. Johnny Boychuk was defending, but couldn't get in the way of the pass to Gagne. Just like that, and B's killer Gagne put the Bolts on top.
After the opening goal, the Bruins went into panic mode, getting outskated, outhustled, and outshot in the first period. Their putrid effort to start the game seemed to be a carry over from the equally gross 2nd and 3rd stanzas in Game 4.
They couldn't get anything going in the first and were outshot 14-4. They were also unsuccessful on their only PP opportunity of the 1st, not exactly breaking news.
In the 2nd period, the B's looked like a different team, skating harder and upping the physicality, which should have been their M.O. to begin with. Their hard work was rewarded 4:24 into the 2nd when Nathan Horton let off a rocket of a one timer, beating Mike Smith and knotting the game at 1. Both Milan Lucic and David Krejci assisted on Horton's seventh goal of these playoffs.
Later in the 2nd, the Bruins took a 2-1 lead when Brad Marchand redirected a centering pass from Patrice Bergeron at 15:56. The goal was Marchand's 6th of the playoffs but only the first of this series. This came shortly after a 12 minute stretch where the Bruins didn't even manage a single shot on net.
The Bruins held Tampa Bay in check for the first half of the third, but almost saw their lead evaporate halfway through the period, but then Thomas made the save of the playoffs when Steve Downie corralled a rebound off the end boards and fired a wrister on net. Thomas was out of position, so he lunged to his right, extended his stick, and swatted the puck out of the air. Downie could not believe it, but these are the types of saves that Thomas regularly makes. His huge stop kept the B's up 2-1 and helped ice the victory after Rich Peverley's empty net goal closed out the game.
Game 6 is tomorrow night in Tampa and the Bruins know what is at stake. The question is will they take advantage of this opportunity. We will find out tomorrow at 8.
OTHER GAME NOTES
*First of all I felt like Nostra fucking damus yesterday. Not only did I blog that there was no way Roloson started the game, I also predicted a big night from Nathan Horton. Scoring the tying goal early in the second period is big. I also calmed down the Kaberle haters and said that I expected 12-13 mins of ice time for the maligned D Man. He had 13:06. This was the low mark in ice time for any defender. I couldn't have been more right if I tried. It's a gift.
*The Seguin craze has seemed to simmer down, at least for the moment. He took a shitty tripping penalty in the first period and was penalized because of it. He finished with just 7:20 of ice time, including his time on the man advantage, +1 rating and 0 shots on net. We all know Claude isn't a fan of Seguin's but the kid is here to do ONE thing. Score. He might have a hard time doing that when he is getting Paille minutes. (This has been your mandatory Claude complaint for the day)
*The Bruins seemed to have avoided a scare in the third when that little pussy Downie boarded Boychuk behind the net. Boychuk's head made contact with the boards and he seemed to struggle walking down the aisle. Early word out of Boston is that he should be available in Game 6 tomorrow. Downie is the worst type of hockey player, one who will take runs at players but will also flop like a Canadien, as we saw the other night. Fuck him.
*Timmy's save will have its own commercial by later on tonight. Sure he may have been out of position, but if that shot goes in, perhaps the B's are on the brink of elimination today instead of being one game away from history.
*Though Horton scored and both Krejci and Lucic had assists, they still only had 4 shots all game (3 from Horton, 1 from Krejci) after tallying 2 shots in Game 4. The whole team struggled in this department but the front line has to be more aggressive. *cough* Lucic *cough*
*One more win is all it takes. Let's finish these tools off so that their fans can go back to watching NASCAR and stop pretending to be hockey fans.